The format
Lektionen / Lessons
offers contexts and background information on the artworks of the exhibitions in the Paintings Gallery.
Series of lectures on the exhibition
Considering the Collection &
King Vulture
An Insert by Willem de Rooij
(8.3.–20.8.2023)
28.6.2023, 18 h
Conference Room
Helmut Draxler
State, Situation, Action. The Social Imaginary in Dutch and Flemish Painting
---
14.6.2023, 18 h
Paintings Gallery
Carolin Bohlmann and IJsbrand Hummelen
Re-enactment in Conservational Practice
---
31.5.2023, 18 h
Anatomy Hall
Christian Kravagna
Birds. Snakes. Palms. Power. What can Dutch painting tell us about Austrian colonialism?
---
24.5.2023, 18 h
Anatomy Hall
Vanessa Joan Müller
Re-reading Images: Reference and Re-reading in the Work of Willem de Rooij
---
8.3.2023, 18 h
Conference Room
Willem de Rooij
King Vulture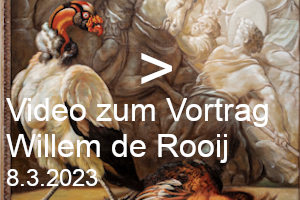 ---
Series of lectures on the exhibition
The Purloined Masterpiece. Images as Time Machines
(7.4.2022–29.1.2023)
26.1.2023, 18 h
Conference Room
Victor I. Stoichita
The Nervous Statue. On the Pygmalion Iconography in the Eighteenth Century
---
18.1.2023, 18 h
Paintings Gallery
Anna-Sophie Berger und Teak Ramos
Advice you can take
---
14.12.2022, 18 h
Conference Room
Sandra Hindriks
Optical Illusions as Tests. Painting around 1500 in the Interplay of Sensual and Intellectual Experie
nce
---
9.11.2022, 18 h
Paintings Gallery
Bernhard Siegert
The Second Day of Creation. The Romantic Seascape between Painting and Physics
---
14.10.2022, 18 h
Paintings Gallery
Gabriele Mackert
Chronicler of the Seas. About Allan Sekula's Marea negra: Fragmentos para una ópera