The holdings of the Graphic Collection are made up of three collection areas: drawings, prints and photographs. This division was already made with the inventory of the works on paper, which began at the end of the 19th century and has been maintained until the present day.
In total, there are approximately 40,000 drawings, 22,000 photographs and 36,000 inventory numbers of prints with an estimated 100,000 individual sheets. These works come from various European cultural landscapes and date from the 14th to the 21st century. Among the oldest works are Gothic architectural drawings from the 14th and 15th centuries and prints from the second half of the 15th century, including a group of engravings by Martin Schongauer.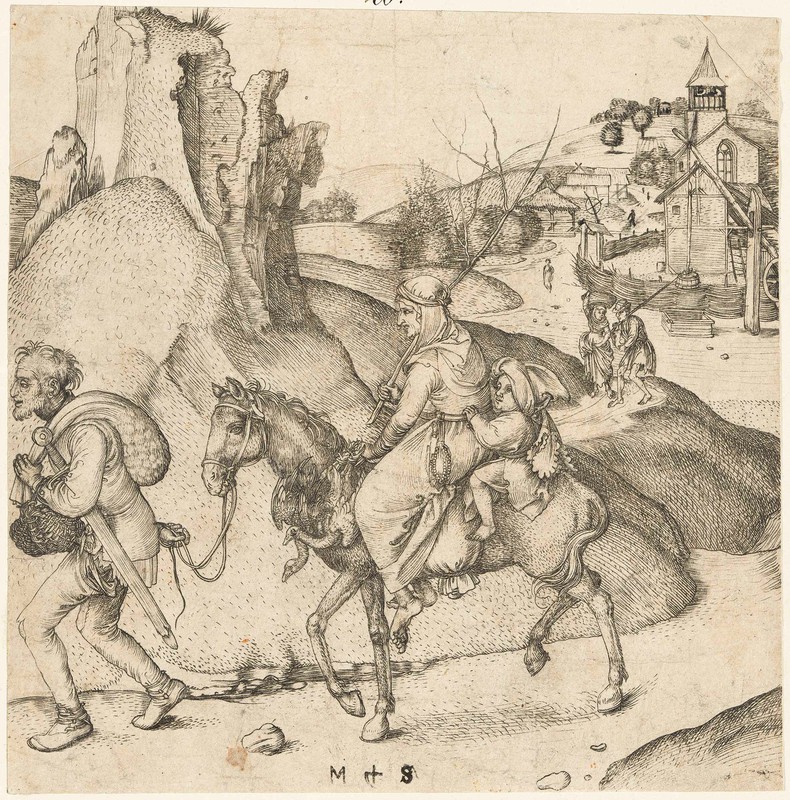 Martin Schongauer: Peasant Family Going to the Market , c. 1470, engraving, © The Graphic Collection of the Academy of Fine Arts Vienna
Works by women artists were scarce until the 20th century. It has only been over the last 100 years that works by women are increasingly to be found in the Graphic Collection. On the one hand, this can be explained by the prevailing art historical canon, which also shaped the history of collecting and acquisition, and on the other hand, this has to do with the fact that women were not allowed to study at the Vienna Academy until 1921.
Barbara Regina Dietzsch, attributed to: Parrot Tulip with Bluebird and Caterpillar, before 1783, tempera on vellum, © The Graphic Collection of the Academy of Fine Arts Vienna
In addition to regular donations from private individuals, the holdings are expanded primarily through annual purchases of contemporary art , with special consideration given to graduates of the Academy. In this way, the Graphic Collection attempts to document the artistic events at the Academy and to live up to its claim to be a visual memory.
The works in the Graphic Collection cannot be permanently presented due to their sensitivity to light. A selection can be seen regularly in special exhibitions or as loans at external presentations. In addition, we offer you the opportunity to view selected works in our study hall upon appointment.